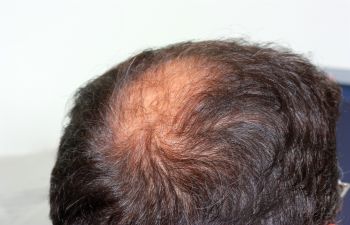 Having a significant impact on one's quality of life, hair loss affects millions of people across the United States. Yet, there is hope on the horizon, as stated by the American Academy of Dermatology, given the growing amount of research supporting the use of Platelet Rich Plasma (PRP) treatments for hair loss.
For physicians and surgeons, the use of PRP therapy is nothing new, because it has been used successfully in dentistry, dermatology, orthopedics and other medical applications. The process begins with a simple blood draw from the actual patient. The blood is then placed in a centrifuge machine where it is spun rapidly, separating the red blood cells from the platelet-rich plasma.
The plasma is then injected directly into the patient's scalp. In some cases, a technique called microneedling is used to stimulate healing and activate the growth factors and nutrients in the plasma. In essence, PRP therapy can slow the progression of hair loss for those experiencing thinning hair, while also increasing the thickness and regrowth of hair over time.
As a stand-alone treatment or as a supplemental therapy following a hair transplant, PRP treatment provides patients with several hair restoration options. Even so, candidates with early hair loss tend to respond most favorably to treatment, as well as those with hereditary, age-related hair loss.
Dr. Gary Linkov – Hair Restoration Specialist
As a renowned facial plastic surgeon, Dr. Gary Linkov of City Facial Plastics in New York City is also a hair restoration specialist with an extensive background in hair transplantation procedures.  His unique understanding of the skin, hair and biological components that impact hair loss have given him keen insight into specialized treatment protocols for men and women.
In fact, Dr. Linkov has extended his expertise to hair growth treatments for the face and body, including beard transplant, body hair transplant, eyebrow transplant, Follicular Unit Extraction (FUE), Jetpeel PRP Needleless injections, pubic hair transplant, scalp micropigmentation (SMP), female hair loss and hairline lowering.
With a careful blend of skill and artistry, Dr. Linkov performs complex hair transplant processes that harvest hair follicles (several hundred or a few thousand!) from the back and sides of the scalp. Next, he transplants the follicles into specific recipient sites. This is a critical step of the hair restoration process. To ensure that the harvested follicles remain healthy, PRP therapy may follow hair transplantation to boost growth and prevent future hair loss of the newly transplanted hairs.
If you are ready to explore advanced options for hair restoration in NYC, contact City Facial Plastics today.