Dr. Gary Linkov is the best-in-class eyebrow transplant doctor as well as an experienced plastic surgeon in New York City. He understands the aesthetic appeal that a well-formed eyebrow can add to the face, which allows him to create beautiful, thick eyebrows in the desired shape.
What Is an Eyebrow Hair Transplant?
An eyebrow transplant takes hair from the back of the head, typically, and transfers it to the eyebrows. Once the transplanted eyebrow hairs start to grow, they will continue to get longer and will remain permanently. Though seemingly a straightforward procedure, an eyebrow hair transplant is a very meticulous surgery that demands proper knowledge of hair direction, angulation, and brow anatomy.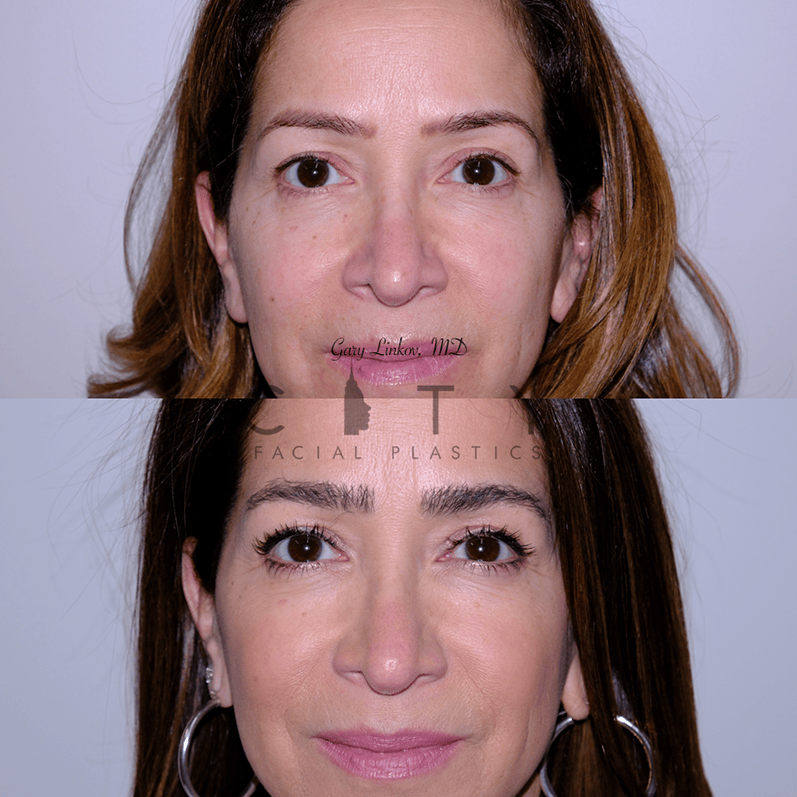 Eyebrow size and shape ideals have fluctuated throughout history. Ancient Egyptian and ancient Greek women often favored a thick brow and a unibrow was not frowned upon. Though there was a time that medieval women enjoyed a thin brow, needle-thin brows became popular more recently in the 1920s and have had several decades of success. Now, however, a bold, power brow is back and an eyebrow transplant is one way to bring it to life.
What Are the Relevant Anatomy and Aesthetic Goals?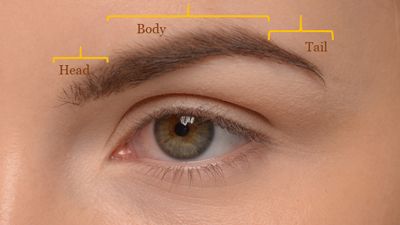 Brow hair direction and angulation: the head of the eyebrow (innermost 5–7 mm) has hairs oriented in a vertical fashion, with a gradual progression laterally. The top-most row at the head is often orientated horizontally. The body of the eyebrow (central 2.5 cm) has hairs that are oriented in a cross-hatch pattern with the top part having hairs pointing down and lateral and the bottom part with hairs pointing up and lateral. The tail of the eyebrow (outer 2 cm) has hairs pointed laterally. The angulation is ultra-acute and very flat to the skin surface.
Female brow: a female eyebrow is about 6-7cm long and starts just medial to the medial canthus (inner corner of the eye). It starts and ends at the same horizontal plane with the head and tail along the orbital rim (upper eye bone). The peak of the eyebrow is anywhere from the lateral limbus of the iris to the lateral canthus and rises above the level of the orbital rim. Different degrees of peak and shape may be favorable.
Male brow: a male eyebrow is about the same length as the female eyebrow and starts and ends at a similar position. However, the peak is less pronounced and the eyebrow is straighter. The eyebrow usually travels along the orbital rim throughout its course, with an increased hair density at a similar location to where the eyebrow peaks in women.
Does Eyebrow Hair Transplant Procedure Really Work?
Assuming that proper hair transplant techniques are followed, eyebrow transplants do work. The technique for eyebrow transplants is similar to scalp procedures but more refined and therefore should only be performed by surgeons with specific training and expertise in eyebrow transplants. Occasionally touch-up procedures are required at 10-12 months after surgery to provide more fullness in areas where some hairs may not have grown in.
Who Is a Good Candidate for an Eyebrow Transplant?
There are a few causes of thin eyebrows that are safe to correct with a brow transplant, including:
Overplucking
Laser hair removal
Scarring
Naturally thin or short eyebrows
Aesthetic preference
There must be enough donor hair to harvest for the eyebrow transplant. And patients must be medically cleared to undergo the procedure.
How is Eyebrow Transplant in Manhattan, NYC Performed?
To restore eyebrows through transplantation, hair follicles are harvested from the scalp and placed on the eyebrow. While scalp hair transplants are usually completed solely with FUE (follicular unit extraction), eyebrow transplants may use FUE or FUG (follicular unit grafting). Both use scalp hair to create thick, beautiful eyebrows that will continue growing for a lifetime. The procedure can be performed in one visit with immediate results. It is virtually pain-free with little to no recovery needed.
There are two ways to harvest the hairs from the donor area which is usually from the back of the head, each with their advantages and disadvantages, these include:
FUE (follicular unit extraction)
Hair is removed one by one using a manual punch, powered punch, or robotic punch.
Advantages:
Ease of recovery
Lack of linear scar
Disadvantages:
Longer time on stomach during extraction
Hairs are cut short which may affect planting for eyebrows
★★★★★
I cannot say enough about Dr. Linkov and his staff. From the initial consult to day of surgery and post op appointments, I have had nothing but an outstanding experience. During the consult Dr. Linkov went over everything in detail and was honest compassionate throughout. I didn't feel rushed and he answered all my questions. Leading up to the surgery, Bianca, the receptionist, was amazing. She was very responsive/professional with all my questions, and all the necessary pre-operative preparations that needed to be done. During the surgery Dr. Linkov and his team were wonderful. I felt comfortable and calm during a long surgery. Dr. Linkov followed up afterwards to make sure I was doing well. If I could give more than 5 stars I would! Highly recommend!
Mrunal Parmar
FUT (follicular unit transfer)
Hair is removed as a strip excised from the back of the head and sutures used to close the wound.
Advantages:
Faster process
Hairs can be left longer which may help during planting to see the curl of the hair
Disadvantages:
Linear scar
Longer, more painful recovery
As far as graft number is concerned, anywhere from 100-350 grafts are used per eyebrow.
Once the hair is removed it is then processed to separate hairs into 1 and 2 hair grafts, as thicker grafts can cause an unnatural appearance when implanted. Sometimes 3 hair grafts can be used where density is needed. Next, recipient sites are made into the eyebrow once it has been numbed. These sites need to be very acute so that the hairs eventually grow in a natural fashion and not straight out of the skin in a perpendicular way. Once the sites are made, the hairs are then carefully placed into the sites and oriented properly so that the curl of the hair faces down.
How to Prepare for an Eyebrow Transplant?
At your initial appointment at City Facial Plastics in Manhattan's Upper East Side, Dr. Linkov will check your medical history and determine if you are cleared for an eyebrow transplant. Stop all supplements and over the counter medications that can thin the blood at least one week prior to your procedure. Vitamin C and Vitamin K taken a week before the eyebrow transplant procedure may help improve healing and minimize bleeding. A cleaning solution will be recommended so that you can cleanse in the shower leading up to the procedure.
What to Expect on the Day of the Procedure?
You will bring the medications prescribed to you into the office. After consent is obtained, the eyebrows are meticulously marked. You can bring in an eyeliner so that your preferences are incorporated into the final design. Some patients come in with an exact shape in mind and others ask the surgeon to design it, either way is fine.
You will then be given several medications to prepare you for the start of the eyebrow transplant.  You will be given an antibiotic, an anti-inflammatory pill, a sedative and anxiolytic.
You will then undergo the FUE or FUT extraction portion of the procedure by laying on your stomach or sitting, depending on the extraction method. If you are face down, the drawn markings will be protected using a non-stick pad. Once the grafts are removed you will then turn onto your back, to allow for recipient site creation and then placement of the grafts.  The overall process may take a few hours for smaller cases, up to six hours for larger cases.
As the procedure nears its end you will be shown the almost completed eyebrow transplant, at which point you can decide if any changes are necessary before the final hair grafts are placed. Keep in mind that swelling at this point may distort the appearance of symmetry.
Is an Eyebrow Transplant Painful?
The donor site (back of the head) and the recipient site (eyebrows) both receive local anesthesia which numbs the area and makes the rest of the procedure pain-free. Also, oral medications to relax the nerves and make you sleepier are used at the beginning when the hairs are removed to improve comfort.
Are the Results of an Eyebrow Hair Transplant Procedure Permanent?
Once the transplanted eyebrow hairs start to grow out they are permanently there. If the procedure was done on a poor surgical candidate (see contraindication section below) then there is risk of losing the hairs.
What Is the Recovery From Eyebrow Transplant?
Bleeding, swelling and bruising are all possible after an eyebrow transplant. The most important precaution in the recovery phase of an eyebrow transplant is not to get the transplanted hairs wet for the first five days. This allows them to set in the proper orientation and to eventually grow. After about three weeks the shafts of the transplanted hairs will usually fall out and hair regrowth starts at 4-6 months with final results assessed at one year. An oral antibiotic and topical antibiotic (for the donor area) are provided as well.
Once the hairs begin to regrow, you will need to trim the hairs two or three times a month, as needed. Hair gel or eyebrow gel may be needed to train a few of the hairs to grow flat along the forehead in the ideal direction.
What Are the Risks and Complications of Eyebrow Transplant?
The following risks/complications after an eyebrow transplant exist:
Poor angulation: Despite every best effort to use an acute angle to the skin surface when making recipient sites and placing grafts, occasionally grafts may still grow at a more perpendicular angle and some may need to be removed.
Poor regrowth: As with any hair transplant, poor regrowth is possible and a touch-up procedure may be needed as early as 10 months after surgery.
Asymmetry: Sometimes arises due to the effects of local anesthesia provided.
Cysts: Though very rare, inclusion cysts can form.
Does an Eyebrow Transplant Leave Scars?
With the FUE method of hair extraction, small circular scars are left but they are barely noticeable even with a shaved head. With the FUT method, a linear scar across the back of the head is left behind which makes it more difficult to wear shorter hairstyles. The recipient area where the new eyebrow hairs grow should not display any scars.
What Are the Contraindications for Eyebrow Transplant?
There are some contraindications to eyebrow transplant, such as:
Underlying health problems that are not compatible with the medications given during the procedure
Scarring alopecia (frontal fibrosing alopecia)
Autoimmune alopecia (alopecia areata)
Uncontrolled trichotillomania
Poor donor hair supply
Other contraindications to eyebrow transplant are scarring alopecias or autoimmune alopecia areata, in which the body will continue to try and destroy the hair follicles. Lastly, not having enough donor supply of hairs to transplant is a contraindication to eyebrow transplant surgery.
What Are the Alternatives to Eyebrow Transplant?
The alternative treatments to an eyebrow hair transplant include:
Tattoo: Permanent pigment is used to create a flat outline of eyebrows
Microblading: Semi-permanent ink is used and the appearance of hair is simulated
Make-up: Temporary cover-up that can be used with any of the above treatments
Latisse: A prostaglandin analog that is applied topically may help with hair growth, in addition to eyelash improvement.
Are Patients Satisfied After Eyebrow Transplant?
As long as patients understand the potential for a touch-up procedure in the future, most are very happy with their decision to undergo the procedure and to obtain a permanent solution. The three-dimensionality that is created with an eyebrow transplant cannot be matched by any other treatment option.
What Is the Cost of an Eyebrow Transplant?
While most hair transplants are priced per graft, the eyebrow transplant is usually a flat fee per case. This is because while the graft count may not be much compared to a scalp case, the extreme attention to detail and skill level necessary warrant a minimum fee.
Who Is the Best Eyebrow Transplant Surgeon in NYC?
Dr. Linkov is a board-certified facial plastic surgeon in UES, Manhattan with unique expertise in hair restoration surgery. He is one of the top plastic surgeons in NYC performing the eyebrow transplant procedure. Make sure that the best eyebrow transplant doctor you choose understands its intricacies and how to create the most aesthetically pleasing result.
Eyebrow Transplant Before and After
If you have any questions for the best-in-class facial plastic surgeon in New York, Dr. Gary Linkov, or would like to make an eyebrow transplant consultation, please feel free to contact our City Facial Plastics office, located in Midtown, Manhattan , for a consultation.
★★★★★
Dr. Linkov is a great guy and is very knowledgeable. When it comes to FUE (including body hair transplant), it's all about the experience of the doctor and technicians. Dr. Linkov has a very experienced team that allowed me to fully recover in 6 days. I had a procedure done on a Sunday, and was out and about on a Friday night, with nobody noticing that anything had been done. Definitely recommend.
Joshua Guzman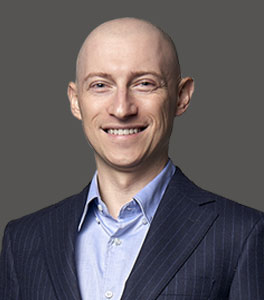 Dr. Linkov is a double board-certified by the American Academy of Facial Plastic and Reconstructive Surgery and the American Board of Otolaryngology-Head & Neck Surgery. A native of New York, Dr. Linkov graduated as a salutatorian from Cornell University and received his Medical Degree at Columbia University College of Physicians and Surgeons. Dr. Linkov conducted advanced head and neck cancer research at the world-renowned Memorial Sloan Kettering Cancer Center. Dr. Linkov is a former Adjunct Assistant Professor at New York University (NYU), where he taught Rhinoplasty.
Dr. Linkov is a top-rated facial plastic surgeon in New York who specializes in lip lift, facelift, rhinoplasty, and hair transplant. He has been named one of the top 5 lip lift surgeons in the United States, is listed in the prestigious SuperDoctors New York™ registry, and has appeared on the Dr. Oz Show, where he discussed the state-of-the-art hair transplantation procedure.