Eyebrows define the eyes and offer an aesthetically-pleasing form to enhance the facial features. For some people, eyebrows are too thin to create the desired look without "penciling" in their shape. If you have thin or bare eyebrows and you want them enhanced, an eyebrow transplant may be right for you. City Facial Plastics offers eyebrow transplants using advanced FUE and FUG methods for natural hair growth.
Dr. Gary Linkov is the best eyebrow transplant doctor as well as an experienced facial plastic surgeon. He understands the aesthetic appeal that a well-formed eyebrow can add to the face. With his understanding of facial artistry and the use of the latest hair transplant technology, he creates beautiful, thick eyebrows in the desired shape.
Thin eyebrows occur for many reasons. Some people genetically have sparse hair on their eyebrows, which can become even thinner with age. Others may have used electrolysis to remove eyebrow hair and now want it restored. Hormones, scars, injuries and other factors all have an impact on eyebrow thickness and shape. With hair transplants, eyebrows can be restored, regardless of the reason why it is needed.
What is an eyebrow hair transplant?
An eyebrow transplant takes hair from the back of the head, typically, and transfers it to the eyebrows. Once the transplanted eyebrow hairs start to grow, they will continue to get longer and will remain permanently. Though seemingly a straightforward procedure, an eyebrow hair transplant is a very meticulous surgery that demands proper knowledge of hair direction, angulation, and brow anatomy.
What are the relevant anatomy and aesthetic goals?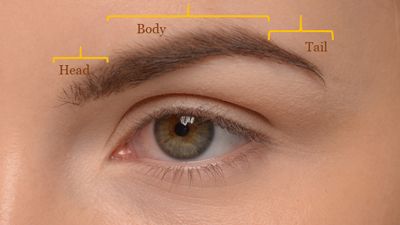 Brow hair direction and angulation: the head of the eyebrow (innermost 5–7 mm) has hairs oriented in a vertical fashion, with a gradual progression laterally. The top-most row at the head is often orientated horizontally. The body of the eyebrow (central 2.5 cm) has hairs that are oriented in a cross-hatch pattern with the top part having hairs pointing down and lateral and the bottom part with hairs pointing up and lateral. The tail of the eyebrow (outer 2 cm) has hairs pointed laterally. The angulation is ultra-acute and very flat to the skin surface.
Female brow: a female eyebrow is about 6-7cm long and starts just medial to the medial canthus (inner corner of the eye). It starts and ends at the same horizontal plane with the head and tail along the orbital rim (upper eye bone). The peak of the eyebrow is anywhere from the lateral limbus of the iris to the lateral canthus and rises above the level of the orbital rim. Different degrees of peak and shape may be favorable.
Male brow: a male eyebrow is about the same length as the female eyebrow and starts and ends at a similar position. However, the peak is less pronounced and the eyebrow is straighter. The eyebrow usually travels along the orbital rim throughout its course, with an increased hair density at a similar location to where the eyebrow peaks in women.
Does eyebrow hair transplant procedure really work?
Assuming that proper hair transplant techniques are followed, eyebrow transplants do work. The technique for eyebrow transplants is similar to scalp procedures but more refined and therefore should only be performed by surgeons with specific training and expertise in eyebrow transplants. Occasionally touch-up procedures are required at 10-12 months after surgery to provide more fullness in areas where some hairs may not have grown in.
Who is a good candidate for an eyebrow transplant?
There are a few causes of thin eyebrows that are safe to correct with a brow transplant, including:
Overplucking
Laser hair removal
Scarring
Naturally thin or short eyebrows
Aesthetic preference
There must be enough donor hair to harvest for the eyebrow transplant. And patients must be medically cleared to undergo the procedure.
How are Eyebrow Transplants Performed?
To restore eyebrows through transplantation, hair follicles are harvested from the scalp and placed on the eyebrow. While scalp hair transplants are usually completed solely with FUE (follicular unit extraction), eyebrow transplants may use FUE or FUG (follicular unit grafting). Both use scalp hair to create thick, beautiful eyebrows that will continue growing for a lifetime. The procedure can be performed in one visit with immediate results. It is virtually pain-free with little to no recovery needed.
If you are interested in learning more about eyebrow transplants at City Facial Plastics, contact our office on the UES Manhattan to schedule a consultation with Dr. Linkov.
Is an eyebrow transplant painful?
The donor site (back of the head) and the recipient site (eyebrows) both receive local anesthesia which numbs the area and makes the rest of the procedure pain-free. Also, oral medications to relax the nerves and make you sleepier are used at the beginning when the hairs are removed to improve comfort.
Are the results of an eyebrow hair transplant procedure permanent?
Once the transplanted eyebrow hairs start to grow out they are permanently there. If the procedure was done on a poor surgical candidate (see contraindication section below) then there is risk of losing the hairs.
What is the recovery from eyebrow transplant?
Bleeding, swelling and bruising are all possible after an eyebrow transplant. The most important precaution in the recovery phase of an eyebrow transplant is not to get the transplanted hairs wet for the first five days. This allows them to set in the proper orientation and to eventually grow. After about three weeks the shafts of the transplanted hairs will usually fall out and hair regrowth starts at 4-6 months with final results assessed at one year. An oral antibiotic and topical antibiotic (for the donor area) are provided as well. Once the hairs begin to regrow, you will need to trim the hairs two or three times a month, as needed. Hair gel or eyebrow gel may be needed to train a few of the hairs to grow flat along the forehead in the ideal direction.
What are the risks and complications of eyebrow transplant?
The following risks/complications after an eyebrow transplant exist:
Poor angulation: Despite every best effort to use an acute angle to the skin surface when making recipient sites and placing grafts, occasionally grafts may still grow at a more perpendicular angle and some may need to be removed.
Poor regrowth: As with any hair transplant, poor regrowth is possible and a touch-up procedure may be needed as early as 10 months after surgery.
Asymmetry: Sometimes arises due to the effects of local anesthesia provided.
Cysts: Though very rare, inclusion cysts can form.
Does an eyebrow transplant leave scars?
With the FUE method of hair extraction, small circular scars are left but they are barely noticeable even with a shaved head. With the FUT method, a linear scar across the back of the head is left behind which makes it more difficult to wear shorter hairstyles. The recipient area where the new eyebrow hairs grow should not display any scars.
What are the contraindications for eyebrow transplant?
There are some contraindications to eyebrow transplant, such as:
Underlying health problems that are not compatible with the medications given during the procedure
Scarring alopecia (frontal fibrosing alopecia)
Autoimmune alopecia (alopecia areata)
Uncontrolled trichotillomania
Poor donor hair supply
Other contraindications to beard transplant are scarring alopecias or autoimmune alopecia areata, in which the body will continue to try and destroy the hair follicles. Lastly, not having enough donor supply of hairs to transplant is a contraindication to beard transplant surgery.
What are the alternatives to eyebrow transplant?
The alternative treatments to an eyebrow hair transplant include:
Tattoo: Permanent pigment is used to create a flat outline of eyebrows
Microblading: Semi-permanent ink is used and the appearance of hair is simulated
Make-up: Temporary cover-up that can be used with any of the above treatments
Latisse: A prostaglandin analog that is applied topically may help with hair growth, in addition to eyelash improvement.
Are patients satisfied after eyebrow transplant?
As long as patients understand the potential for a touch-up procedure in the future, most are very happy with their decision to undergo the procedure and to obtain a permanent solution. The three-dimensionality that is created with an eyebrow transplant cannot be matched by any other treatment option.
What is the cost of an eyebrow transplant?
While most hair transplants are priced per graft, the eyebrow transplant is usually a flat fee per case. This is because while the graft count may not be much compared to a scalp case, the extreme attention to detail and skill level necessary warrant a minimum fee. The average eyebrow transplant cost in NYC ranges from $3500 (for a touch-up procedure) to $6000-$8000 for a full case.
Who is the best eyebrow transplant surgeon in NYC?
Dr. Linkov is a board-certified facial plastic surgeon in NYC with unique expertise in hair restoration surgery. He is one of the few surgeons in NYC performing the eyebrow transplant procedure. Make sure that the best eyebrow transplant doctor you choose understands its intricacies and how to create the most aesthetically pleasing result.
Eyebrow Transplant Before and After