What Is Scalp Micropigmentation?
Scalp micropigmentation, or SMP, is a cosmetic procedure that creates a temporary tattoo in a stippling pattern to resemble hairs that are cut short on the scalp. This process is similar to microblading that is done for the eyebrows and other types of semi-permanent makeup. Scalp micropigmentation is often compared to a tattoo, but SMP involves a more superficial application of ink, or pigment.
Hair restoration is an evolving discipline with many new and innovative solutions. Different hair loss conditions can be treated with topicals, oral medications, injections, surgery, and camouflage techniques. Some treatments look to stimulate the actual hair follicle, others transfer hair follicles, while yet others recreate the appearance of hair.
What is SMP Treatment?
Simply put, scalp micropigmentation is tattooing hair follicles on the skin. SMP is used in many different ways to cover areas that have thin hair or no hair at all. The effect can be incredible, creating a pleasing aesthetic appearance that resembles real hair follicles.
The treatment process uses pigment injected carefully into the scalp to create the illusion of hair follicles. Think of the appearance of a shaved head where the hair is just beginning to grow back. The pigmentation process is used to create the illusion of hair and can be used on its own, with hair transplants or to fill in natural hair. The pigment is matched to the patient's natural hair and looks natural.
Who is a Good Candidate for SMP?
Men are typically the best candidates for SMP, but anyone with hair loss can use this option. SMP may be used over a completely bald head to create a "just shaved" appearance. Scalp micropigmentation with hair can also be used to fill the scalp or extend the hair line when the hair is thin and cut short. Anyone wanting to create the appearance of a hair shadow can benefit from SMP.
The types of candidates who may benefit from SMP include:
Completely bald. If the whole head is shaved or if no hair exists due to a type of alopecia, SMP is an option to create a uniform, shaved appearance.
Thinning hair. SMP can be used to reduce the contrast between darker hair and lighter skin color, which creates the illusion of a fuller appearance.
Missing patches of hair. In cases of prior injury or areas of alopecia areata where patches of hair may be missing, SMP can help blend in these patches with the surrounding hair. The result is more natural appearing if the patient shaves the scalp to create a more natural appearance.
Scarring. Scalp micropigmentation for scars can be helpful in cases of scar from prior hair transplant procedures, injuries, prior cancer surgery, etc.
You do not need to accept hair loss as a fact of life. There are options to give you the appearance of a full head of hair, including SMP treatment. To learn more about SMP or hair transplants for hair loss, contact our team at City Facial Plastics in Manhattan, NY to schedule a consultation.
How Is Scalp Micropigmentation Done?
The general idea of male and female scalp micropigmentation is to deposit ink, or pigment, into the scalp skin. The primary components necessary to execute the procedure are discussed below. Comparisons to how a tattoo is done are made.
SMP ink (pigment)
There is a lot of unscrupulous activity surrounding the exact types of ink, or pigment, used for scalp pigmentation New York. Many providers market themselves by claiming to use a proprietary ink that can only be obtained from them, and they fail to disclose any active ingredients. Others describe the type of ink used as "organic" and "natural," to distinguish it from tattoo ink. The truth of the matter is that modern tattoo inks that are colored may contain heavy metals.
However, the black ink used for tattoos is often based on carbon which is not a heavy metal. Carbon is traditionally produced from charring organic materials such as wood or bone. The carbon-based black ink that is used for tattoos is the same general type of ink that is repurposed for SMP use. Unfortunately, this has been a topic of great misinformation and has misled many patients.
The black ink is diluted to varying degrees with sterile water to arrive at a grayscale tone that best suits each patient. A lighter tone (more dilute) is selected for lighter haired patients to blend well with their existing hair. The tone, or color, can be darkened if needed with subsequent treatment sessions.
SMP needle
Unlike tattoo needles, SMP needles are usually less thick (smaller diameter). During scalp micropigmentation, the needles are used to deposit ink into the superficial dermis, which is less deep than what is done during a tattoo. These needles are single-use and should be discarded after every treatment.
SMP handpiece machine
The handpiece machine is what drives the needles in and out of the skin to deposit the ink. Traditional tattoo machines use a coil system, which contains an electromagnetic circuit to move the needle grouping. SMP, on the other hand, along with permanent makeup procedures, involves a rotary machine with a small motor that moves the attached needles up and down in a smooth cyclical pattern.
SMP sessions
Several sessions are required, usually 2-4 sessions spaced at least 10 days apart, in order to reach a desired appearance. With each session either the color is darkened and/or additional dots are added to increase density, preserving the appearance of hair follicles.
How to Prepare for Scalp Micropigmentation?
There is no special preparation required for SMP. It is best to avoid blood thinners in the 24-48 hours before the procedure if possible, such as alcohol, ibuprofen, etc. Avoid hair products the morning of the procedure and wash your hair and scalp well before the procedure.
What to Expect on the Day of the Procedure?
Scalp micropigmentation sessions take from 30 minutes to several hours depending on the size of the area to be covered and necessary density.
The basic steps of the procedure are as follows:
The treatment area is wiped with alcohol
The ink color and tone is selected and prepared
The ink is delivered to the scalp using a handpiece and needle. Most patients tolerate this process without being numbed, but some benefit from an injection of lidocaine as a partial ring block or complete ring block prior to the start of SMP.
Excess ink on the surface of the scalp is wiped away throughout the SMP session
What Is the Recovery From Scalp Micropigmentation?
You may experience some redness, itching, and slight scalp discomfort in the first 48 hours following the procedure. It is very important not to wet the hair for 5 days after the SMP procedure in order to allow the ink to dry. This includes limiting exercise, as the perspiration may compromise the result. Avoid UV light for at least 4 weeks after the procedure, such as the sun or tanning bed, as this can quickly fade the color of the ink. Up to four sessions, at least 10 days apart, may be needed to optimize your scalp micropigmentation results.
Is Scalp Micropigmentation Permanent?
The final result lasts for about 3 to 5 years, slowly fading over time. Touch-ups are possible to maintain the desired look. Some pigment may be present beyond 5 years. A laser can be used if a person chooses to reverse the effects of the SMP.
What Are the Risks and Complications of Scalp Micropigmentation?
The risks and complications of SMP include:
Mild discomfort
Redness
Infection
Poor aesthetic outcome (color mismatch, color change, quick fade, poor design)
Allergic reaction
Scarring
MRI sensitivity (if metals are present in the ink)
Can Scalp Micropigmentation Cause Hair Loss?
The answer is no, as long as proper SMP technique is used with ink deposition into the superficial dermis. The root of the hair follicle is deeper under the skin and should not be affected. If, however, a more traditional tattoo approach is used, that may put the hair follicle in jeopardy and potentially contribute to hair loss.
Can I Get a Hair Transplant If I Already Had Scalp Micropigmentation?
Yes. At least several months after SMP, if you so choose and are deemed a candidate, you can undergo a hair transplant. Dr. Linkov, as a best-rated plastic surgeon in NYC, has performed hair transplants on patients with prior SMP work. Keep in mind that sometimes the recommended hairline pattern for a hair transplant may not be consistent with the SMP that already exists.
In these situations, you and a board-certified facial plastic surgeon in Manhattan's Upper East Side, Dr. Linkov must decide what might be a safe compromise to give you an excellent long-term hair transplant appearance while also respecting the existing SMP. A laser treatment to remove unwanted ink may be recommended before the hair transplant.
Conversely, you can also get SMP done AFTER a hair transplant. It can be done as early as two weeks after the hair transplant if the area to be treated with SMP is different from the recipient area of the hair transplant. For example, if the hairline and mid-scalp are addressed during a hair transplant, a few weeks later scalp micropigmentation NYC can be performed into the crown area if desired.
What Are the Contraindications for Scalp Micropigmentation?
Generally considered a very safe and well tolerated procedure, SMP should be avoided in the following situations, including:
Acute and chronic infections
Blood thinners (warfarin, dabigatran, heparin)
Local skin conditions (ulcer, burn, dermatitis, etc)
Active cancer
Allergic to ink components
What Are the Alternatives to Scalp Micropigmentation?
There are other non-surgical options as well as surgical hair restoration solutions depending on the exact hair loss condition and patient preferences. If a non-surgical medical route is chosen, a combination of treatment modalities is often recommended. Not every option below is an option for every patient. Discuss your particular situation with an experienced plastic surgeon Dr. Linkov, MD to learn about the full range of possibilities, other than SMP.
Non-Surgical Alternatives
Minoxidil (Rogaine)
Finasteride (Propecia)
Spironolactone
Nutraceutical (Viviscal; Nutrafol)
Low-level laser light therapy
Surgical Alternatives
Surgical hairline lowering (SHA)
Hair transplant
Can Scalp Micropigmentation Be Removed?
Similar to tattoo removal, SMP can be removed using specific lasers. SMP laser removal will often require fewer sessions since the ink deposition is more superficial compared to a traditional tattoo. A Q-switched Nd:YAG laser is a popular choice for ink or pigment removal.
Are Patients Satisfied After Scalp Micropigmentation?
Most patients are satisfied after scalp micropigmentation NYC. Patients need to be prepared for a series of treatment sessions. It is also important to understand that the color will fade after each treatment, and will continue to fade gradually over the ensuing years. Some patient's ink fades faster than others due to a myriad of reasons. Patients should accept these factors prior to undergoing SMP.
What Is the Cost of Scalp Micropigmentation?
The variables that impact on price for SMP include:
Size of treatment area
Quality of ink/needles/machine used
Provider experience
Who Should Be Performing Scalp Micropigmentation?
Best scalp micropigmentation for women and men is currently performed by a range of specialists, including:
Doctors
Nurses
Nurse Practitioners
Physician Assistants
Technicians
Aestheticians
Tattoo artists
Some patients opt to go to a tattoo parlor for their SMP. This option may be less expensive and feel "less medical".
The advantages of going to a board-certified hair restoration surgeon in NYC include:
Assured safety and sterility
Technical knowledge of hair allows for natural SMP results
Discussion of all available hair restoration solutions
Who Is the Best Scalp Micropigmentation Specialist in NYC?
Dr. Gary Linkov, a NYC hair restoration top-ranked expert, is a leading voice in hair restoration. He has advanced knowledge of underlying disease processes and is up-to-date on the latest therapies, offering his patients top of the line care. He also has alopecia areata himself which allows him to empathize with his patients and deliver the most compassionate hair restoration care in NYC, from the heart. The best-in-class plastic surgeon in UES, Manhattan Dr.Linkov personally performs all of the SMP procedures in his practice. As a facial plastic and reconstructive surgeon and hair transplant surgeon, he is able to create natural, aesthetically beautiful scalp micropigmentation results.
Scalp Micropigmentation Before and After
If you are ready to explore the opportunity to change your appearance through scalp micropigmentation, contact City Facial Plastics in Manhattan, NYC. Schedule your first consultation with an internationally recognized facial plastic surgeon in New York, Dr. Linkov to discuss if scalp micropigmentation is the right option to improve your appearance and confidence.
★★★★★
Dr. Gary Linkov is the best doctor I've ever had (not just for hair transplants, but overall derm-related advice). He is thoughtful, kind, and takes a true interest in his patients' health and needs. I'm happy to say that Dr. Linkov and I remain friends even post operation – he is always a phone call or text away should I need anything. FWIW, I spent years looking for a solution to thinning hair – at the end of my research (and many upsetting interactions with other doctors), Dr. Linkov was the one I'm glad I ended up with. I referred him to my close friends as well – he will not disappoint!
Ashish Bhandari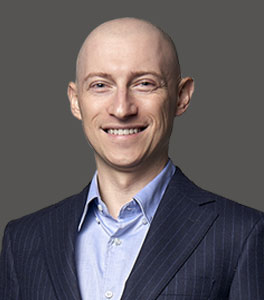 Dr. Linkov is a double board-certified by the American Academy of Facial Plastic and Reconstructive Surgery and the American Board of Otolaryngology-Head & Neck Surgery. A native of New York, Dr. Linkov graduated as a salutatorian from Cornell University and received his Medical Degree at Columbia University College of Physicians and Surgeons. Dr. Linkov conducted advanced head and neck cancer research at the world-renowned Memorial Sloan Kettering Cancer Center. Dr. Linkov is a former Adjunct Assistant Professor at New York University (NYU), where he taught Rhinoplasty.
Dr. Linkov is a top-rated facial plastic surgeon in New York who specializes in lip lift, facelift, rhinoplasty, and hair transplant. He has been named one of the top 5 lip lift surgeons in the United States, is listed in the prestigious SuperDoctors New York™ registry, and has appeared on the Dr. Oz Show, where he discussed the state-of-the-art hair transplantation procedure.