With his focus on providing patients with excellence in aesthetic rejuvenation, Dr. Linkov is one of the first facial plastic surgeons to offer this revolutionary treatment option. Evolus and Jeuveau make the perfect partnership with excellence in treatment at City Facial Plastics. If you would like to make positive changes in your life with a safe and effective nonsurgical cosmetic procedure, consider arranging a consultation with Dr. Gary Linkov today.
What Is Jeuveau?
Neuromodulator injectables such as Botox, Dysport and Xeomin interrupt the signals between nerves and the muscles they control. Jeuveau is currently intended for use in treating glabellar lines, better known as the frown lines that lie between the brows. As it stands, Jeuveau is currently the only neuromodulator product of its kind that holds an "aesthetic-only indication."
Evolus promotes an open communication style, which fits perfectly with the vision of Dr. Gary Linkov and City Facial Plastics. During the consultation, you will have the opportunity to ask further questions and get answers about the benefits of Jeuveau when compared to other neuromodulator injectables like Botox, Dysport or Xeomin.
Effective Frown Line Treatment!
Jeuveau is an effective treatment for mild to severe frown lines, providing results that last at least as long as Botox and up to a month longer in some cases. Repeated facial movements will result in frown lines over time. If you work in a high-stress job or simply have a very expressive face, you may develop noticeable frown lines at an early age.
Dr. Gary Linkov may recommend Jeuveau for the treatment of frown lines – even if you have received treatment using other injectables like Botox in the past. Determining the right approach to your treatment is important to the team at City Facial Plastics. For a one-on-one needs assessment, why not take advantage of a facial rejuvenation consultation at our Madison Avenue, New York offices?
Is Jeuveau the Same as Botox, Dysport and Xeomin?
While all four products are neuromodulators, they are no more the same than two different brands of cola. All are derived from the same bacteria but can produce varying results from patient to patient. Patients may choose Jeuveau over another injectable neuromodulator due to experiencing better results, fewer side effects or simply preferring one product over the others.
Dr. Linkov may recommend Jeuveau based on several factors; however, the choice is ultimately yours to make. At City Facial Plastics, our main priority is helping you to achieve your personal aesthetic goals. If Jeuveau is the ideal pathway to the outcomes that you desire from neuromodulator injectables in New York, your dedicated cosmetic surgery team is here to provide expert guidance and support.
Jeuveau Results
You will likely begin to see improvements in frown lines as soon as two to three days after treatment with Jeuveau. However, improvements will continue for several days to come. Patients can expect to enjoy the results of Jeuveau for up to five months, with general satisfaction from treatment ranging anywhere from three to six months.
If you would like to learn more about the results that Dr. Gary Linkov has already achieved with Jeuveau, make an appointment for a consultation at City Facial Plastics today. Eliminate frown lines for several months with this innovative treatment from Evolus.
★★★★★
Dr. Linkov is an excellent physician and surgeon with superb bedside manners. He cares deeply about each and every one of his patients and makes you feel comfortable. His skills are unparalleled. He empowers me each time I meet with him and he is truly one of the best.
Jonathan Harounian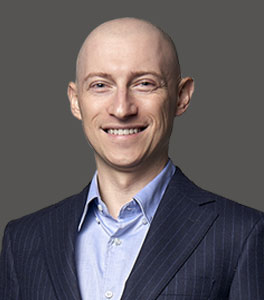 Dr. Linkov is a double board-certified by the American Academy of Facial Plastic and Reconstructive Surgery and the American Board of Otolaryngology-Head & Neck Surgery. A native of New York, Dr. Linkov graduated as a salutatorian from Cornell University and received his Medical Degree at Columbia University College of Physicians and Surgeons. Dr. Linkov conducted advanced head and neck cancer research at the world-renowned Memorial Sloan Kettering Cancer Center. Dr. Linkov is a former Adjunct Assistant Professor at New York University (NYU), where he taught Rhinoplasty.
Dr. Linkov is a top-rated facial plastic surgeon in New York who specializes in lip lift, facelift, rhinoplasty, and hair transplant. He has been named one of the top 5 lip lift surgeons in the United States, is listed in the prestigious SuperDoctors New York™ registry, and has appeared on the Dr. Oz Show, where he discussed the state-of-the-art hair transplantation procedure.